What is it? BonPEC is a state of the art Pulsed Eddy Current technology innovation designed and engineered by BonPhysics BV.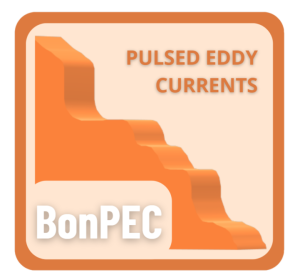 It is a non-intrusive electromagnetic technique based on Pulsed Eddy Current which allows detection, measurement and monitoring of corrosion in low alloyed carbon steel pipes and vessels through their insulations, coatings, paints, concrete fireproofing or marine growth. The technology does not require direct contact, cleaning or special and specific preparation of the surface of the object to be examined, therefore no costly and unnecessary insulation removal is required to perform the PEC examination with a considerable cost saving for the client.
PEC is the efficient and cost effective solution for the examination of insulated and corroded components and parts in the on- and offshore industry and in the energy sector.
Corrosion Under Insulation (CUI), Corrosion Under Fireproofing (CUF) and Flow Accelerated Corrosion (FAC) as well as Well Integrity are typical PEC successful applications, solutions and benefits. PEC performance is effective also for semi-contact measurements carried out with dirty, rough, cold and high temperature objects.